A PET-CT system is shown in Figure P9.7. There are N0 positron annihilations at the origin of the circle whose gamma rays travel on the line L(0, 0◦). N+ of these positron annihilations reach detector A and N− reach detector B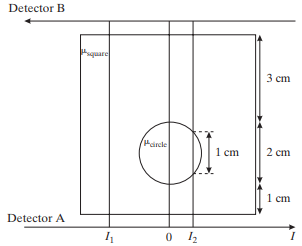 Figure P9.7 See Problem 9.11.
(a) Write an equation for the number of coincidence events Nc arising from positron annihilations at the center of the circle that will be detected as a function of N0, N+, and N−. For parts (b)– (d): Suppose that the radioactivity is the same everywhere and the value of g(

1, 0â—¦) is 2/3 of the value of g(0, 0â—¦).
(b) Write an equation representing the relationship between μsquare and μcircle.
(c) What is the ratio g(

2, 0â—¦)/g(0, 0â—¦)?
(d) What is the local contrast on the 0â—¦ projection? (Take the peak of the circle as the object intensity.)