This case describes the corporate governance issues that have arisen in European football clubs. The ethical issues associated with the shifting ownership and investment landscape of modern football are discussed and alternative forms of ownership of football clubs are identified. The case provides an opportunity to understand the tensions between ownership, shareholding, and stakeholding in a unique industry context. When Manchester City were crowned champions of the English Premier League in 2014, their Argentinian manager, Manuel Pellegrini remarked, 'I manage a great group of players and a great institution. [It's a] very special group.' But City's 'special group' had only been made possible by the huge influx of cash from owner Sheikh Mansour bin Zayed al Nahyan and his Abu Dhabi Investment Group, which had invested more than €1 billion in the club since taking over in 2008. City's new-found riches transformed the club from mid-table obscurity to champions, turning the tables on their long-time overachieving neighbours, Manchester United. Unsurprisingly, United's fans voiced their disapproval; but disquiet with City's turnaround went far beyond their Manchester rivals. As Forbes magazine remarked, 'Manchester City will not be popular champions with many, because ultimately they bought the title.' In fact, only days after claiming the title, City were landed with a record €60 million fine from UEFA (the European football governing body) for breaching financial fair play regulations, having racked up hundreds of millions of pounds in losses over the past few years in their search for glory. With wealthy backers seemingly intent on spending their way to victory, whatever the costs, Manchester City's story crystallized the transformation in European football from a community sport to a multi-billion dollar international industry with serious corporate governance problems. The changing face of the football 'industry' The commercialization of football has been a significant trend since the 1980s—and one that has transformed almost beyond recognition the way the sport is organized, controlled, marketed, and financed. Long gone are the days when football players in Europe's top leagues would earn wages not much different from the supporters in the stands. Today, the elite clubs pay their stars millions of dollars a year in salary, which is then further increased with image rights and endorsements. In 2013, football's top earner Cristiano Ronaldo raked in some $80 million in total earnings, placing him at number 30 in Forbes' annual list of the world's most powerful celebrities. One of the key changes, of course, has come from the growth of commercial television in the game. This has led not only to vast increases in income for the clubs themselves, but also to a larger, global audience for the teams and their players. It is now commonplace to find fans of Europe's top clubs, such as Manchester United, Real Madrid, or AC Milan, in Africa, Asia, and Latin America. Parallel to these huge TV revenues, opportunities for generating revenue from merchandising club paraphernalia and advertising contracts have increasingly helped to fill the clubs' coffers. In 2013, Ronaldo's club Real Madrid was named as Europe's richest club with a revenue of €519 million, followed by Barcelona (€483 million), Bayern Munich (€431 million), and Manchester United (€424 million). Another major change has been the trend towards new ownership and investment models for football clubs, particularly among the English Premiership elite. Starting in the 1990s, many UK clubs began listing their stock in order to source new investment, such that by the mid-1990s, 27 clubs had listed on the stock exchange. However, football clubs quickly fell out of favour with shareholders because of their meagre return on investment, especially with escalating player salaries eating into profitability. In fact, since 2006/07, wage costs have consumed 83% of Premier League clubs' revenue growth. By 2012, therefore, only three British teams remained publicly listed. In the place of public ownerships models, many clubs have been taken back into private ownership, typically by wealthy individuals and private investment companies. For instance, Manchester United, is majority owned by Malcolm Glazer via his Red Football parent company, having delisted the club from the stock exchange in 2005. Similarly, Chelsea is owned by parent company Fordstam Limited, which is controlled by Roman Abramovich, the Russian oligarch. Private ownership has often been accompanied by huge accumulation of debt to finance the initial purchase of clubs and sustain growth. In 2012, Chelsea had net debts of £878 million and Manchester United owed some £366 million. The total net debt held by English Premier League clubs was a whopping £2.4 billion. Share A similar pattern, albeit with some variations, has taken hold across many of Europe's biggest clubs. Table C6.1 describes the ownership structure of some of Europe's top clubs by revenue, most of which exhibit very narrowly held ownership. The big difference comes in Spain where the country's two footballing giants, FC Barcelona and Real Madrid are both owned by supporters associations. Governance challenges With these developments towards commercialization and private capital investment, significant challenges confront the football 'industry'. With roots in what was a simple local institution for fans and communities, many football clubs have struggled to enter the world of professional business. Not only in the UK but all over Europe, clubs have been beset by financial problems. Spectacular bankruptcies, such as the one at Rangers in Scotland in 2012, which saw the club liquidated and eventually admitted into the fourth tier of the Scottish league as a new company, are one obvious manifestation of these problems. By 2012, there had in fact been 92 instances of insolvency at clubs competing in the top five divisions in England since the formation of the Premier League in 1992. In Italy, 103 professional clubs from the four top divisions collapsed between 2002 and 2012, while more than 20 Spanish clubs went into bankruptcy protection in the 2010s alone. More generally, across Europe many football clubs have struggled to generate profitability despite increasing revenues. The German Bundesliga League and the English Premier League have been the only 'big five' leagues in Europe (the others being Italy, Spain and France) to even generate an operating profit, before financing and player trading is taken into account. Once they are included, the picture has looked even bleaker. For instance, the net losses of the 20 Premier League clubs run to several hundred million annually (approximately £245 million in 2012) and only eight Premier League clubs made a net profit in 2012. The Bundesliga, however, has succeeded in remaining the most profitable in Europe mainly because of regulations from the German football authorities that exercise greater control over the ownership and financial models of clubs. First, clubs are limited in terms of how much they can spend on wages relative to revenues; and second, external ownership of German clubs is restricted, which prevents wealthy foreign owners from pushing up costs and debt loading. Beyond Germany, UEFA (the European governing body) has also sought to bolster the financial management of European football clubs. UEFA's Financial Fair Play regulations, which were first applied in the 2011/12 season, aim to encourage clubs to build for long-term success using sound financial management. They were brought in to stop what UEFA general secretary Gianni Infantino referred to as 'greed, reckless spending, and financial insanity' within European football. The main requirements of the regulations are that any club qualifying for a UEFA competition must: • Prove that they do not have overdue payables towards other clubs, players, and tax authorities throughout the season. • Break even (starting in the 2013/14 season). Clubs can only spend up to €5 million more than they earn each year. This limit can be exceeded by up to €45 million (2013–15) or €30 million (for the following three seasons) if it is entirely covered by a direct contribution from the club owner(s) or a related party.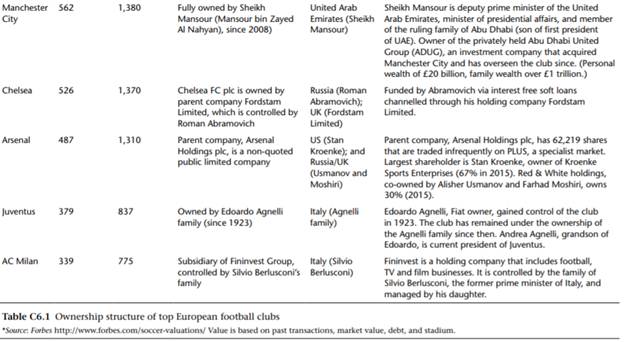 Clubs not meeting these requirements face a range of sanctions including fines, points deductions and even disqualification. Manchester City's punishment in 2014, for example, not only landed them a hefty fine but also restricted the number of players they could register for the following season's Champions League—thereby inflicting a significant blow to their hopes for success in the competition. UEFA's regulations have not only hit the big clubs bankrolled by sheikhs and oligarchs. As of 2013, a total of 76 clubs were being investigated because of failed breakeven calculations for 2012. However, since the regulations only apply to clubs entering European competitions, they have also prompted similar moves to regulate domestically. The Football League, for example, which represents the lower tiers in England, announced the agreement of a Financial Fair Play framework including a break-even rule and a protocol limiting total spending on player wages to a proportion of club turnover. The role of fans Another major governance challenge facing European football concerns the role of fans in the running of football clubs. After all, at the end of the day, clubs depend on their fans for their livelihood, as either spectators, TV audiences, or consumers of merchandise. Also, football fans are unlike typical consumers in that they rarely if ever switch allegiance and so are 'brand loyal' often for their entire lives, regardless of the varying fortunes of their team. This means that they might be seen as one of the most important stakeholders in the club and could be expected to have a significant say in the running of its affairs. In recent years, several initiatives have been taken to address fans' interests more directly, as two examples from the UK illustrate. A government-funded initiative, Supporters Direct, was initiated in 2000 to encourage the creation of supporters' trusts, which organize collective shareholding for fans in their clubs. The aim of these trusts is 'to bring about responsible, democratic representation at spectator sports clubs, and so help promote the highest standards of governance, accountability and embed those clubs deeper into their communities'. The trusts have grown in popularity amongst supporters, with many clubs now having one, but in only a handful of small teams have the trusts directly assumed ownership of the clubs. Another initiative by the clubs themselves has been the Football in the Community scheme. This involves the clubs in various social projects, generally targeted at embedding the club in the local community and addressing social exclusion, unemployment, or antisocial behaviour in the immediate vicinity of the clubs. Corporate social responsibility programmes have become more widespread in the world of football, especially amongst large clubs, where teams such as Arsenal and Chelsea now have initiatives, reports, and websites dedicated to social responsibility. Even smaller clubs, such as Charlton and Brentford, have initiated a host of award-winning community schemes, often in partnership with fans, the police, and local councils. While these philanthropic initiatives appear laudable, the tension about the core purpose of a football club remains: is it just another business that can 'give back' to the community some of its commercial success, or is the actual primary purpose of clubs to provide value to fans? Perhaps the most striking alternative is illustrated by clubs such as Real Madrid and FC Barcelona, which are member-owned, democratic, not-for-profit organizations. Here, the club leadership is accountable to the people who watch and
pay, and the primary rationale for the club is to play football. Members at Barcelona, for example, can vote on the election of the club's president and the governing board, and have a right to participate in key decisions. Barcelona and Real Madrid are both hugely successful teams that have dominated the Spanish league for decades, as well as recording a string of European successes. It is hardly surprising, therefore, that they have attracted an avid membership, as well as recording Europe's highest annual revenues, demonstrating that it is not necessary to have either a wealthy oil sheikh or stock market financing to be financially viable at the top of the game. Indeed, by 2013, after a period of football domination in Europe, Barcelona could probably lay claim to being the club with the most official members in the world—some 222,000. Nonetheless, the domination of Real and Barcelona in Spain has often come at the expense of Spain's other teams who have rarely been able to exercise the kind of economic muscle necessary to challenge for the Spanish title and compete with the European elite. Back in the UK, governance issues have remained high on the agenda in the wake of financial problems among various clubs, a failure to nurture domestic talent (leading to poor showings of the national team in international tournaments), and an ongoing unease about the source of funds flowing into the game. A Parliamentary Football Group proposed a number of recommendations to enhance governance in the 'industry', including an enhanced 'fit and proper persons test' which was adopted by the Premier League in 2009 in order to exclude unscrupulous club owners and directors. In the case of Manchester City, Sheikh Mansour passed the test, but not without criticism from NGOs such as Human Rights Watch, which denounced Abu Dhabi (the country that he, as deputy prime minister, and his family run) as a repressive 'black hole' for human rights. Still, his predecessor would have fared even worse. Thaksin Shinawatra, the former prime minister of Thailand who bought the club in 2007 before selling it for a €150 million profit little more than a year later, is currently on the run having been sentenced to two years imprisonment in his native Thailand. As a convicted criminal he almost certainly would have failed the fit and proper persons test. However, despite being dismissed from his position as honorary club president by the new owners because of his conviction, Shinawatra remains popular amongst City fans for rescuing them financially and starting them on the path to glory. Football fans, it seems, may want their clubs governed better, but not if it means missing out on silverware at the end of the season. Questions 1.