The marketing research staff at Cleveland-based Cyber Novelties has developed the following sales estimates for a proposed new item the firm plans to market through direct mail sales: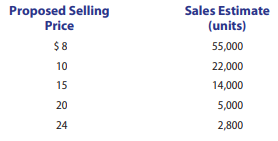 The new product has a total fixed cost of $60,000 and a $7 variable cost per unit.
a. Which of the proposed selling prices would generate a profit for Cyber Novelties?
b. Cyber Novelties' director of marketing also estimates an additional $0.50 per-unit allocation for extra promotion will produce the following sales increases: 60,000 units at an $8 unit selling price; 28,000 units at $10; 17,000 units at $15; 6,000 units at $20; and 3,500 units at $24. Indicate the feasible range of prices if this proposal is implemented and results in the predicted sales increases.
c. Indicate the feasible price or prices if the $0.50 per-unit additional promotion proposal is not implemented but management insists on a $25,000 target return.