The following chart shows the performance of the CAC 40 stocks index in France from January 2007 to February 2008.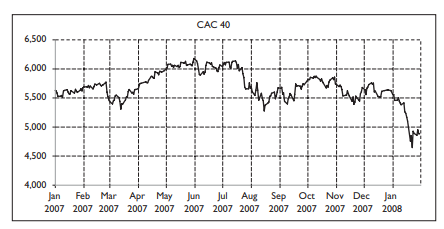 Societe Generale Group incurred "allowance expense on provision for the total cost of the unauthorised and concealed trading activities" of €6.4 billion mainly because of the closing and unwinding of "directional position taken during 2007 and at the beginning of 2008". Societe Generale Group stated in its annual report of 2007 that: "the identification and analysis of these positions on January 19 and 20, 2008 prompted the Group to close them as quickly as possible while respecting market integrity".
Societe Generale Group also stated that application of the provision of IAS 10 and IAS 39 would have led to only presenting the pre-tax loss of €6.4 billion incurred by it in January 2008 in the note to the financial statements of 2007. However, the group considered that this presentation was inconsistent with the objective of financial statements described in the Framework of IFRS standards and that for the purpose of a fair presentation of its financial situation at 31 December 2007, it decided to depart from IAS 10 and IAS 39.
Discuss the case and consider whether the decision of Societe Generale Group resulted in the financial statements faithfully representing its financial performance and position.