This case examines American Apparel's unique approach to social responsibility in the apparel industry. The case discusses the firm's 'sweatshop-free' made-in-the-USA philosophy as applied to clothing design and manufacturing, and also explores the company's unusual commitment to political campaigning on immigration and sexual orientation causes. You have the opportunity to evaluate the potential risks and rewards of its social responsibility strategy and to consider how such practices might help or hinder the company's financial performance. Although it is a fixture along with Zara, Gap, and H&M on high streets across much of the world, in terms of corporate social responsibility American Apparel is unlike virtually all of its counterparts in the apparel industry. While almost all global clothing companies outsource the production of their products to suppliers in emerging economies, American Apparel has steadfastly stuck to a made-in-America philosophy, promising that its clothes are resolutely 'sweatshop free'. Many have wondered about the business logic of such an approach when American Apparel's competitors can enjoy such drastically lower labour costs. Is this a case of 'ethics pays', or is American Apparel ultimately doomed to failure? Vertically integrated and sweatshop free Since the 1990s, apparel companies in Europe, North America and much of the rest of the developed world have reorganized the way that clothes get produced. No longer do mass market branded apparel companies like Gap, Levi's, H&M, or Zara manufacture their own clothes. Instead such companies subcontract their entire manufacturing process—from dying to cutting and stitching—to third-party contractors. Almost always these contractors are located in emerging economies such as Bangladesh, China, India, Turkey and Vietnam. Because factories in these countries rely on local labour and employ working conditions that are very different from factories in Europe and North America, they typically enable big brands to produce at considerably lower unit cost than if they manufactured closer to home. For example, in 2013 while the minimum wage in the US guaranteed workers at least $1,250 per month, Chinese workers were only guaranteed about $200 monthly. Meanwhile, according to the International Labour Organization, workers in rival Asian exporters Vietnam and Cambodia earned around $80 monthly while the minimum monthly wage for garment workers in Bangladesh was a rock bottom $39. As a result, labour costs have been reduced to a fraction of the cost of a piece of clothing sold in a high street store. One estimate suggested that a $14 T-shirt sold in the store would cost a retailer about $5.70 to produce. Of this, labour costs would comprise no more than $0.12, or 2% of the total production cost and under 1% of the price paid at the checkout (see Table C2.1). Salaries are not the only way that overseas factories can save money for apparel companies. Contractors in developing countries also operate with very different rules and norms on working conditions, which further reduces costs compared to producing closer to home. Overseas manufacturing typically means lower levels of environmental, health, and safety protection than that enjoyed in North America and Europe, and a greater likelihood of forced overtime, arbitrary pay deductions, child labour, sexual harassment, and other abuses. Although many overseas factories meet internationally agreed minimum labour standards, reports of violations are common.
Table C2.1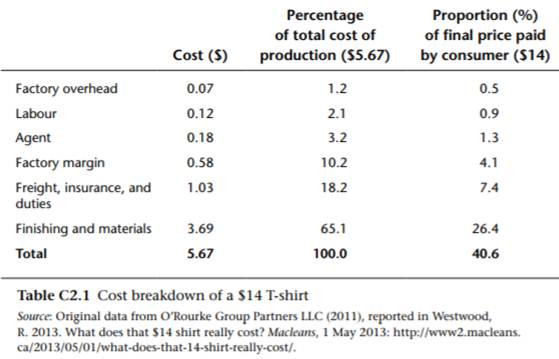 American Apparel operates a substantially different model. Rather than sourcing its clothes from third-party suppliers in emerging economies, the company utilizes a vertically integrated model. This means that all of its manufacturing (including dying, cutting, knitting, and stitching) is completed in-house, as are design, marketing, accounting, retail, and distribution. All of these activities take place at American Apparel facilities in Southern California, and most of it right in its downtown Los Angeles factory, the largest garment manufacturing facility in North America. Perhaps the most remarkable aspect of American Apparel's unique business model though is that it enables the firm to be, or so it claims, 'sweatshop free'. Workers are paid well above the average compared to typical US rates of pay in the apparel industry. The average American Apparel stitcher earns more than $2,000 monthly, almost double the US federal minimum wage. Workers are also guaranteed full-time employment and promotion opportunities rather than the precarious, part-time and casual work typical of the industry. Also available are a range of employee benefits including subsidized health insurance, an on-site medical clinic, subsidized public transport, and even free on-site massages! Because so many of its workers are immigrants to the country (typically from Mexico and other parts of Latin America), the company also provides English classes. Such an unusual approach to doing business in the apparel industry does not come cheap. Producing with decent working conditions in the US incurs significant costs in terms of overhead, labour, capital, and training costs. According to the company, however, its vertically integrated business model in fact offers certain efficiencies because everything is completed in-house. The company claims that it enables better quality control and provides for a faster response to the rapid changes in the fashion industry. It also reduces some shipping and transport costs of products from their place of manufacture and keeps the firm's carbon footprint relatively low. Its claims to be 'sweatshop free' and 'made in the USA' might also appeal to its young consumer base and drive greater sales— but to date, these have not been major elements of its marketing strategy. All in all, American Apparel acknowledges that its sweatshop-free approach is 'not the easy road to travel'. Regardless of the benefits it claims it brings, the company remains a conspicuous outlier in an industry that has wholeheartedly embraced the cost savings of global outsourcing. Nonetheless, the firm claims on its website that its model will stand the test of time: 'Manufacturing in America requires risk taking and long-term investment. We think it's well worth it. The apparel industry's reliance on low wages cannot be sustained over time, ethically or fiscally. As labor and transportation costs increase worldwide, exploitation will not only be morally offensive, it will not even be financially viable.'
Political activism A socially responsible approach to manufacturing is not the only area where American Apparel stands out from the pack in terms of corporate responsibility. The company also takes a distinctly unusual approach to political activism. Where most apparel companies either avoid any real political engagement or look to carry out political lobbying behind the scenes, American Apparel takes a much more public stance. For many years, the firm has actively pursued two hot-button political causes in the US—immigration reform and gay rights—both of which have proved to be popular with some and highly controversial with others. The company's 'Legalize gay' campaign emerged in response to efforts to outlaw samesex marriage in California, and has spread to the protection of gay rights more generally. The firm has given away more than 50,000 of its 'Legalize Gay' T-shirts to lesbian, gay, bisexual, and transgender (LGBT) groups and organizations across the world and has featured the T-shirts in its stores during LGBT demonstrations and celebrations. The firm has also partnered in organized protests and run gay rights advertisements in the US. It even stocks the often-explicit gay publication, Butt Magazine, in its stores, despite occasional bouts of media controversy. The 'Legalize LA' initiative, on the other hand, advocates for immigration reform in the US. Like much of the world, immigration issues in the US have been very politically sensitive, but as the company's former CEO Dov Charney argued in support of his company's involvement: Despite the fact that so many experts agree that the productivity and hard work of immigrants improves our economy, the issue has been grossly misrepresented by the media and certain politicians. Businesses are generally afraid to speak out because they're frightened of reprisals by government agencies, but at American Apparel we have not been able to sit in the shadows while the facts get distorted. The campaign focuses on the company's hometown of Los Angeles, which has one of the largest concentrations of immigrants in the US. American Apparel itself hires a large proportion of its staff from the city's immigrant community, and features a number of them in video clips hosted on its Legalize LA webpages. The firm produces a hard-hitting pamphlet, distributes T-shirts printed with the Legalize LA motto, and raises funds for immigrant organizations, among other things. But many questioned the business logic of such a stance when the company was investigated by US immigration officials in 2009 and forced to fire some 1,800 immigrant workers, almost a quarter of its workforce, for 'irregularities' in their immigration documents.
American Apparel is clearly a leader in some areas of corporate responsibility, but its unusual approach coupled with its outspoken boss also caused it a whole host of problems along the way. To begin with, the company has often been criticized for its overtly sexual advertising, featuring scantily dressed young girls (and occasionally men) in provocative, borderline pornographic poses. The use of nudity in adverts (and more recently, visible pubic hair on its mannequins) has clearly been successful in courting publicity, but it has also threatened the firm's appeal, especially amongst many parents of its sizeable teenage market. However, the firm also purports to be promoting a more open approach to sexuality, using advertising that eschews airbrushing and comes straight from the firm's headquarters rather than via an advertising agency. It may have risks, but American Apparel's edgy aesthetic clearly has its legions of fans. One of the more visible risks of its 'sex sells' approach has been a series of sexual harassment claims made against former CEO Charney beginning in 2005. Although so far these have all been dismissed or settled, Charney became a divisive figure who not only encouraged romantic relationships in the workplace (unlike much of corporate America, which prohibits them), but actively promoted a highly charged sexual atmosphere. In one now legendary encounter, he even masturbated in front of a journalist while being interviewed in his office. According to one account: 'He's short, hairy and absolutely unapologetic about loving sex— any time, anywhere, with anybody he comes across, up to and including his own company employees.' Even to his supporters, he is something of a 'a tarnished hero'. Ongoing investigations into sexual harassment at the firm eventually led to Charney being fired in 2014. But it is not just ethical controversies that have plagued American Apparel. Even more of a threat to the ongoing health of the company has been its multitude of financial problems. After years of strong growth and one of the fastest international retail expansions in history, American Apparel started to run into problems around 2009. Its run-in with the immigration authorities led to staff shortages and supply hold-ups, whilst its supercharged expansion left the company short of cash during the financial downturn. A hike in global cotton prices then drastically cut into the firm's profitability. As a result, the firm twice faced bankruptcy (in 2009 and 2012), only to be saved by last-minute loans from investors. It was even at one point threatened with delisting from the New York Stock Exchange due to financial mismanagement and delays in its filings. Lawsuits from investors followed. From a high of $15 in December 2007, its stock tumbled to below $0.50 in 2014. A turnaround strategy, including a new management team (and eventually the ousting of CEO Charney), a retrenchment of its retail operations, and debt refinancing helped American Apparel to arrest its precipitous decline. However, by 2015 the company still had not managed to turn an annual profit since 2009. With the company still operating at a loss and burdened by heavy debts, many analysts questioned whether the turnaround would ultimately be successful while the company still clung to its high-cost 'Made in the USA' approach. However, although some suggested the company should rethink its strategy and offshore jobs to Asia, others regarded it as a non-starter. 'They've essentially painted themselves into a red-white-and-blue corner,' one analyst was quoted in 2014. 'They can't get out of it. It would be viewed as hypocritical.'